Did you know that jobs appearing in the new Google For Jobs widget convert at four times the average rate? Imagine getting 4X the number of completed applications as you do today! That's a stunning improvement over the status quo.
Organizing information and then providing users with a clean, simple, clutter-free search page was key to Google's early success. Now, Google has focused its attention and considerable resources on pairing job seekers with available jobs.
Google's new job search algorithms are geared towards processing, sorting and organizing job titles, description, skills, and more. Google For Jobs then artfully displays this information directly within a widget inside of its native search results, like the one shown below.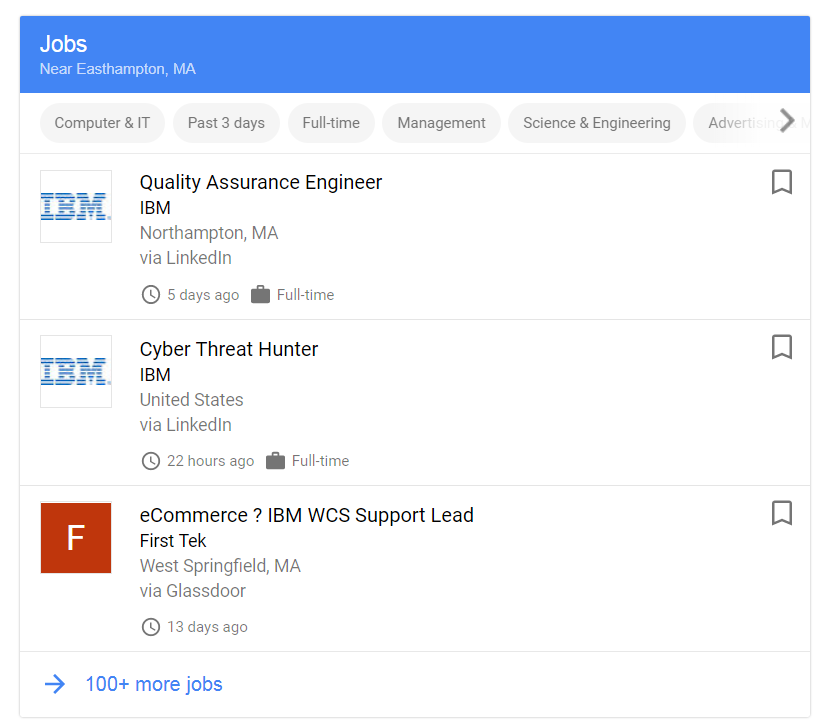 Notice that under each job it indicates that the job is available 'via LinkedIn' or 'via Glassdoor'. What this means is that Google For Jobs has found this job by crawling either LinkedIn or Glassdoor.
What's missing is IBM's own career site where these jobs originate from. Note: since this blog was originally posted, IBM has started using a third party to manage integration with Google For Jobs.
But doesn't IBM have its own careers portal where someone can search for and apply to jobs?
Of course they do, but here's the rub:
Google For Jobs is only going to pull jobs from the careers section of your corporate site if your applicant tracking system supports Google For Jobs.
LinkedIn, Glassdoor and other aggregators and job boards (except Indeed) have done a lot of work to ensure their sites to play nicely with Google For Jobs.
Unfortunately, many applicant tracking systems simply do not support Google For Jobs. The problem is most ATS systems are fairly dated and few if any are set up to start taking advantage of this massive shift in the market. Fortunately, we can help.
InFlight offers a completely automated cloud-based service that enables Taleo Enterprise Edition, Taleo Business Edition, Kenexa BrassRing, SuccessFactors, ADP, PeopleSoft, Silkroad, Lumesse, Greenhouse, iCIMS, and even Workday to meet all the requirements for integration with Google For Jobs.
It also means that organizations no longer need to rely upon job aggregators or other job posting sites like LinkedIn in order to get eyeballs on their open positions.  This is great news for corporate talent acquisition teams and their budgets.
Where does the Google Cloud Jobs Discovery API fit into corporate careers portals?
Cloud Job Discovery is part of Google For Jobs. It provides easy access to Google's search and machine learning capabilities so company career sites, job boards, applicant tracking systems, and staffing agencies can leverage Google's search to improve job site engagement and candidate conversion. In a nutshell, it makes it easier for candidates to find jobs on your site.
Bringing it all together for Talent Acquisition
Our low-cost, monthly service is cloud-based so nothing needs to be installed into your IT environment. Our Google for Jobs Integration Service will optimize your ATS-created sitemap for Google, automate sitemap submission for better Google crawls and indexing, and add structured data to all Job Detail pages.
The next time job candidates search for jobs on Google the open positions in your SuccessFactors, Brassring, PeopleSoft, Taleo, or other ATS system will appear and when the user clicks Apply, they will be routed directly into your applicant tracking system instead of a third party job board or aggregator.
What's this mean for Indeed, Monster and other job aggregators?
No one really knows yet. Google has no doubt rattled Indeed and other job aggregators, like Monster and Dice, to the core. After all, just look at what happened to Yahoo!. Surely some of the job aggregators will end up facing a similar fate.
Granted, the dominant ones like Indeed may innovate their way past the threat, but if they don't they're in big trouble because Google's ability to organize and serve content to end users is unmatched. It's only a matter of time until Google For Jobs becomes the first port of call for anyone looking for work, just as it has for other online searches.
In the end, recruiters and job seekers will be the winners
In the meantime, the Google for Jobs API has essentially leveled the playing field. Already the most successful job-boards are seeing less traffic, and the lesser known boards are now seeing better results than they were before. Starting today the Google For Jobs API means that no one job board will dominate.
It also means that organizations can see more and better-qualified traffic coming directly to their careers pages. This can end up being a huge win for corporate recruiting teams provided that the organization's underlying applicant tracking system (ATS) is set up to work properly with the Google For Jobs and the Cloud Job Discovery API.
Learn more about the InFlight Google For Jobs Integration Service here.