The InFlight advantage
Modernize your existing systems without compromising
the integrity of the underlying application
The InFlight advantage
Modernize your existing systems without compromising the integrity of the underlying application
The InFlight modernization platform enables organizations to repeatedly modernize the user experience of their entrenched enterprise systems for the least cost so they can satisfy the demand for delightful online and mobile experiences.
InFlight removes the technical and organizational hurdles that enterprises face when transforming aging enterprise software. Our ground-breaking technology makes it fast, easy and affordable to enhance the appearance, mobility and usability of your existing enterprise software systems. Only InFlight preserves the existing business logic, customizations or security of your back-office systems, whether you're running PeopleSoft, Taleo, SharePoint, SAP, SuccessFactors or others.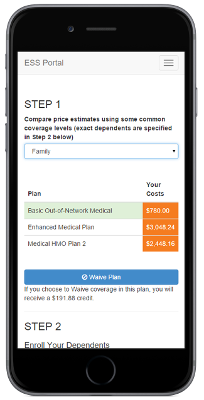 InFlight connects to web-based systems, requesting content the way an end-user would. From there our sophisticated technology reshapes the user-interface by entirely decoupling it from the underlying application data.
The reshaped user interface can be seamlessly delivered to your end users or the raw application data can be used to completely re-imagine the user interface. You can use the application data to build your own interface or use our off-the-shelf solutions. Only InFlight allows you to take complete control over the user experience of your on stack enterprise systems.
Surface ERP content into your portal
InFlight is able to surface content from your enterprise applications into your web portal, whether it's SharePoint, .NET, Drupal, WordPress or others. Solve core usability issues while integrating with the look and feel of the portal.
Make mobile friendly enterprise applications
InFlight makes enterprise systems mobile friendly, no matter which version of PeopleSoft, PeopleTools, Taleo, Ariba, ADP, SuccessFactors, Documentum, etc. you run. Our mobile interfaces are fresh, easy to use and offer support for all modern web browsers and devices.
Avoid long, costly IT projects! InFlight installs in hours and delivers quick wins with high-impact results. InFlight is also available as a fully managed, cloud-based solution.
InFlight is trusted to power transactions for some of the largest companies on the planet. Our technology is built to scale with your organization.
Technology your developers know
InFlight provides you with data from back-end systems as JSON or XML, which your developers can quickly and easily plug into their favorite editor. We don't force you into a development framework, use the standards-based tools of your choice.
Leverage what you already own
InFlight preserves your security controls, business logic and customizations – saving you from having to reinvent what you already own.
"Their customer support service is awesome, every technical staff has really deep knowledge in both platforms. If your company is looking for a cost effective solution to integrate business applications, InFlight is the one to work with!"
Diwen Xu, Lead, Application Delivery and Integration, UNDP
"InFlight has one of the finest product in the market to achieve seamless Integration between PeopleSoft and SharePoint. The technical team coordination and technical skills are commendable."
Microsoft Pinpoint review
"From the first encounter, our engagements with InFlight were positive and continue to be. If you are thinking about creating responsive design templates for PeopleSoft, forget Fluid, and think InFlight. Even if you have Fluid, forget it, and think InFlight."
Microsoft Pinpoint review
"I want thank you and your team for being such an integral part of the success of Vail's HR upgrade. You and your team's organization, communication and execution in such a tight time frame over the past several weeks is one of the best examples of delivery I have ever seen."
Kevin Stone, Vail Resorts